KT Happy Hour: Autumn Kombucha Cocktail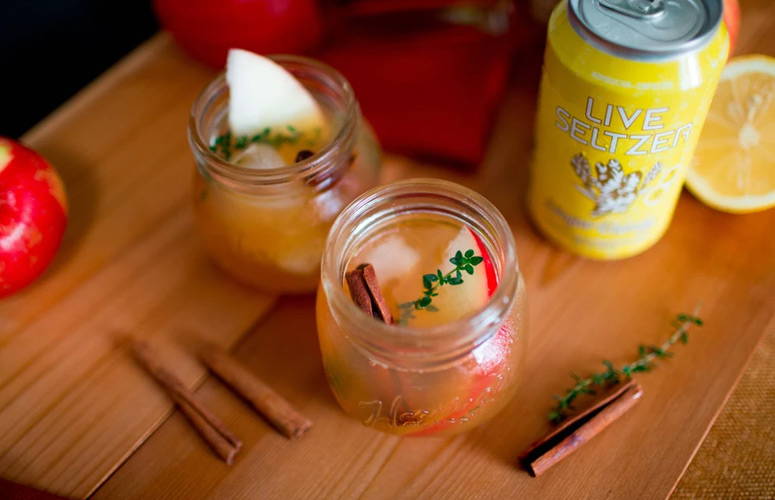 Welcome to Kombucha Town happy hour, where we explore the question: Can drinking alcohol be good for you? Today, the answer is heck yeah! By mixing organic fermented kombucha tea and ginger shrubs, we've created a cocktail that is chock full of probiotics for gut health.
We aren't in Kentucky, but boy are we ready to enjoy some good 'ole bourbon. Today, we put on our mixologist hats to concoct an autumnal drink to warm us from the inside out.
To make it easier, Chuckanut Bay Distillery and the Shrub Farm by Apple State Vinegar were kind enough to gift their stellar products for this experiment. You just can't go wrong with kombucha, locally-distilled bourbon and delicious shrub!
As we sleuthed for recipe inspiration in the kitchen, we happened upon a bottle (or two!) of Bellewood Farms & Distillery apple cider. Made with 100% apples, this stuff is no joke. Plus, it's sourced in Kombucha Town's beautiful backyard in Washington state.
Basing our recipe around apple cider, we came up with the perfect October cocktail recipe. It includes all our favorite fall flavors: apple, ginger, cinnamon and bourbon (yes, we consider bourbon a flavor). And — all ingredients are from the original Kombucha Town — Bellingham, Washington. Yahoo!
It's official, this is the Bellingham drink.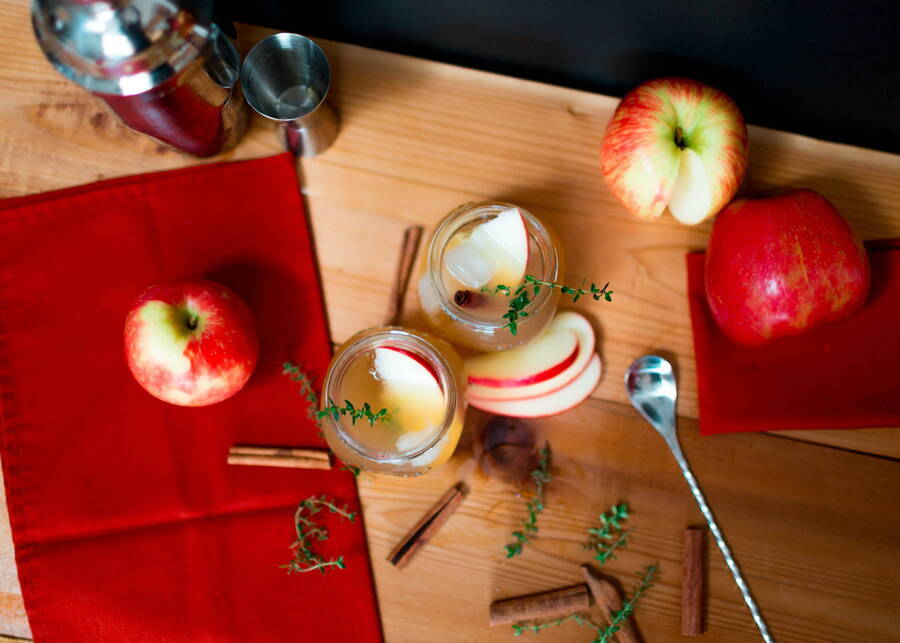 A truly Washington state cocktail.
If we are going to really make the best Washington state kombucha cocktail ever, we can't skimp on quality ingredients.
Choosing the perfect shrub for our drink from these beautiful sampler packs was difficult, but we settled on Ginger & Apple, a supremely Washington flavor. It's made with all organic ingredients, and like all Apple State Vinegar shrubs, has an organic raw apple cider vinegar base (talk about healthy!!). The result is a perfectly sweet shrub with a fiery ginger kick.
Chuckanut Bay Distillery is one of our favorite Bellingham-area craft distilleries (watch this video to learn more about their mission). They are truly dedicated to their craft. As a grain-to-glass company, they source grains from within 30 miles of their distillery and process and ferment it on-site.
Their bourbon is a standout amongst their award-winning offerings. It's made from all locally-sourced corn, wheat, rye and barley then aged in charred American White Oak barrels. Most importantly, the bourbon isn't rushed. The painstaking process results in a beautiful-nuanced bourbon. Long story short, we love it.
Big decisions: Kombucha or Live Seltzer?
What we expected to be the easiest decision turned out quite a bit harder: choosing Kombucha Town's contribution. But before we decide, we thought it best to answer a question we get asked often: Can you mix kombucha and alcohol?
Kombucha and alcohol are a match made in heaven. With kombucha's "trace amounts of alcohol" we can't imagine a better partner for alcohol than this probiotic-filled drink.
Do the health benefits of kombucha weigh out with the not-so-great aspects of alcohol? Probably not. But it tastes phenomenal, and you're still getting all those good gut-friendly probiotics in your belly!
We settled on two amazing options to complete this recipe: our top-seller Original Ginger Kombucha pairs flawlessly with this warm-bodied liquor. As does our fizzy Ginger Energy Live Seltzer. And, if you're wondering, kombucha and bourbon? We get it; you haven't partaken in this so-good-it-can't-be-believed combination.
For vinegar lovers, we suggest the Original Ginger Kombucha. As you may know, shrubs are based in vinegar — as is kombucha. Kombucha's slight vinegar taste is a natural product of the fermentation process; after yeast converts sugar to alcohol, the alcohol is broken down further into organic acids. It's these organic acids that give kombucha its slight vinegar kick. Yum!
If you choose to make your cocktail with both a shrub and kombucha, it will result in a more vinegar-heavy drink that can be overpowering for the subtle apple flavors.
We decided to make the recipe with our Ginger Energy Live Seltzer because that's all we've been drinking in the office. It's fizzy; it's gingery; it's everything we could dream of and more. This perfectly complements all the other ingredients, adding a slight fizz and a strong ginger profile to this apple-y drink. You can purchase it on our website in six packs or twelve packs.
Ready to get started? You can watch a tutorial and read the recipe here — or download the printout below!
Make sure to tag @kombuchatown when you share the result on social media! And let us know what kombucha recipes you've come up with lately.
Best,
The Kombucha Town team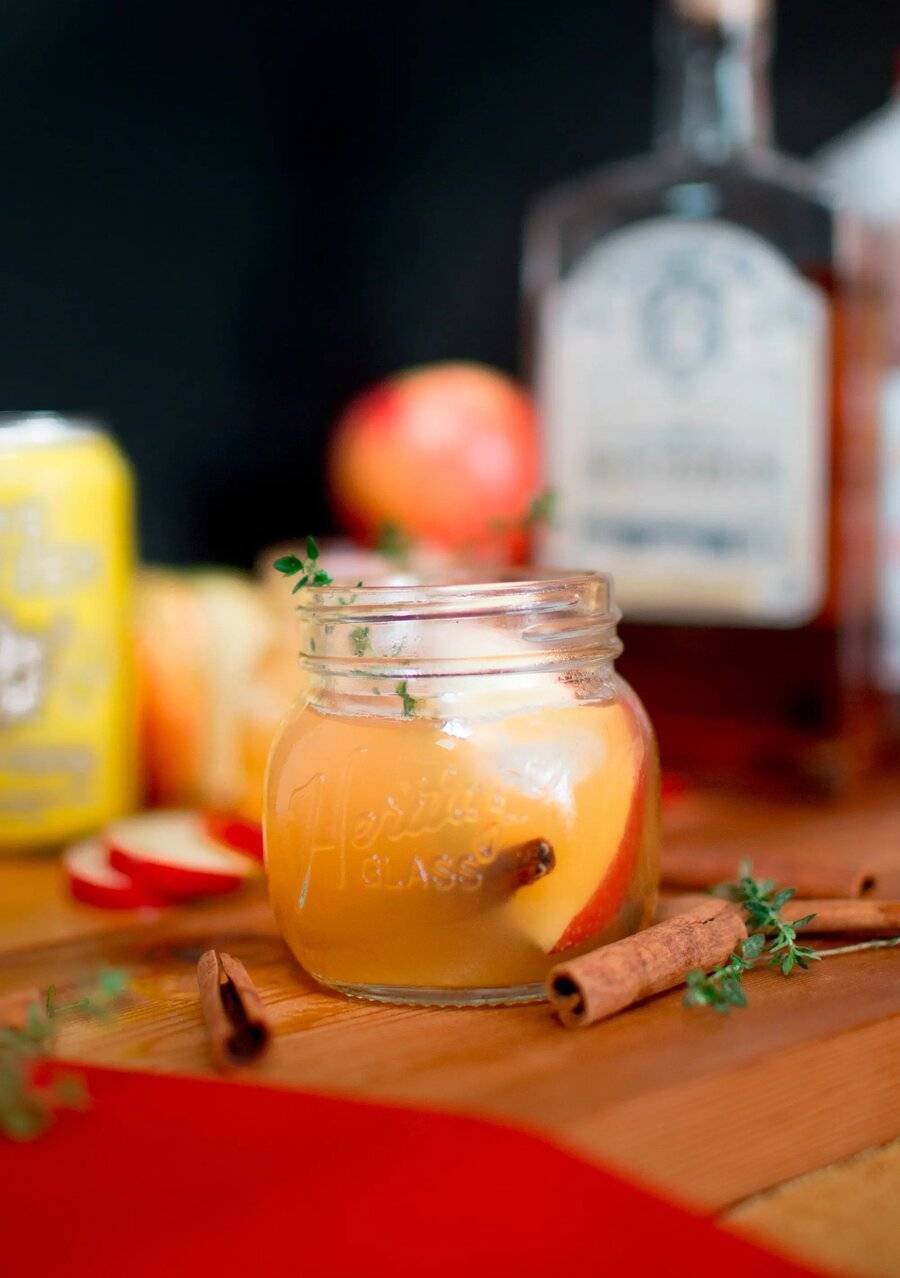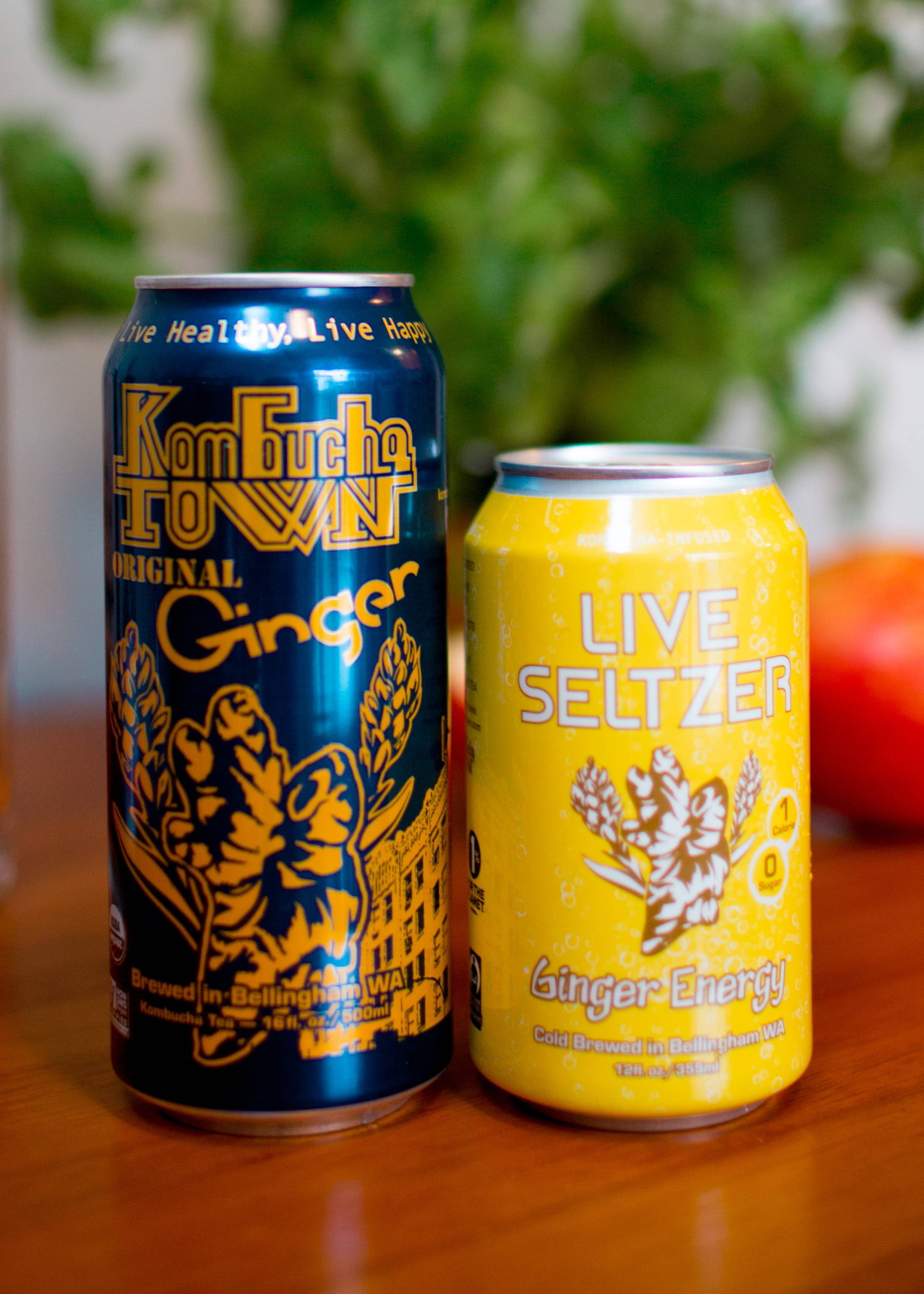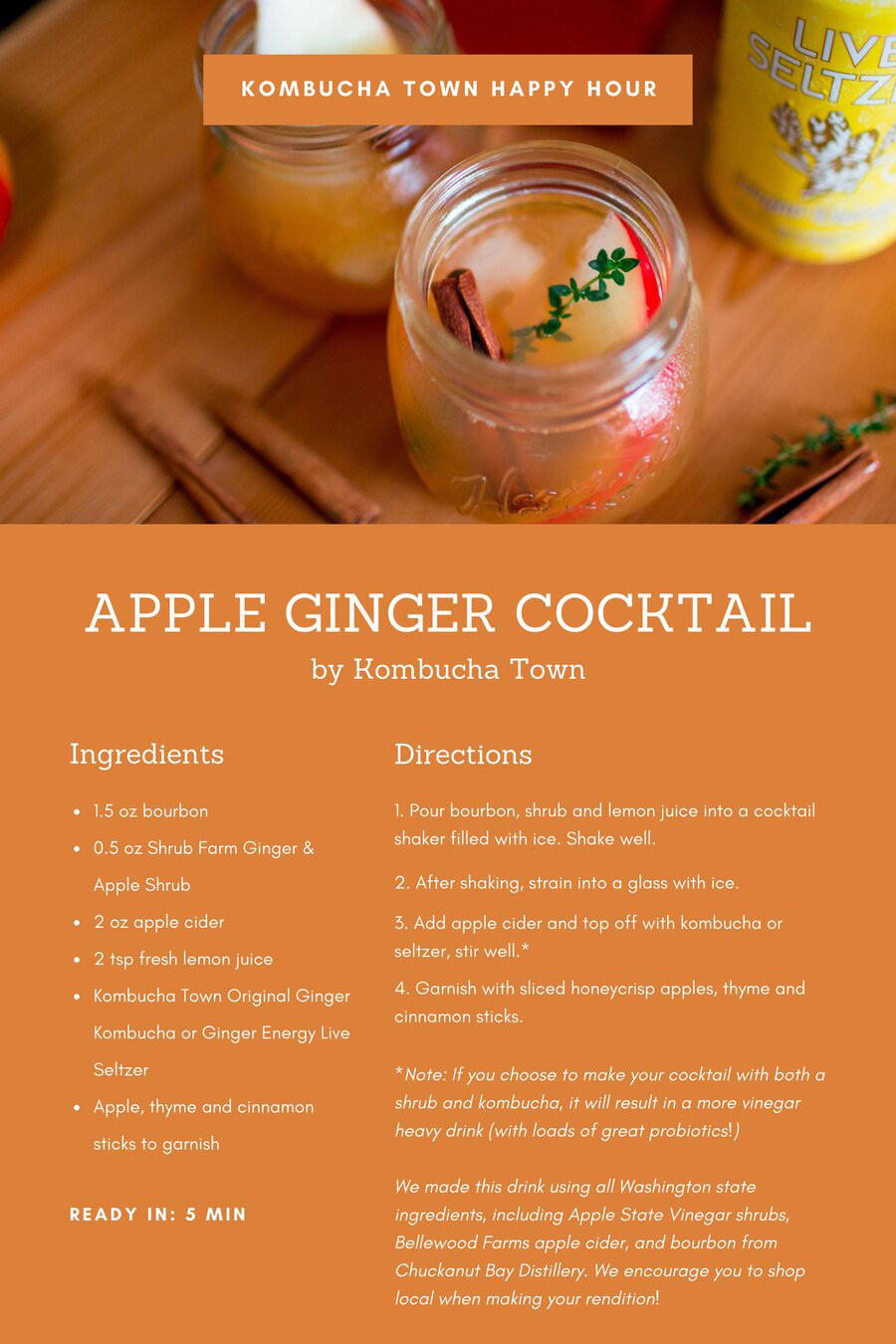 Here's what you'll need:
— Kombucha Town Original Ginger Kombucha or Ginger Energy Live Seltzer
— 1.5 oz Bourbon
— 0.5 oz Shrub Farm Ginger & Apple Shrub
— 2 oz Apple Cider
— 2 tsp lemon juice
— Apple, cinnamon sticks, and thyme (to garnish)
Instructions:
Start by pouring bourbon, shrub and lemon juice into a cocktail shaker filled with ice. Shake well, then strain into a glass with ice. Pout in apple cider, then top off with kombucha or seltzer and stir well. Garnish with sliced honey crisp apples, thyme and cinnamon sticks. Enjoy!