KT Happy Hour: 3-ingredient Cucumber Kombucha Gimlet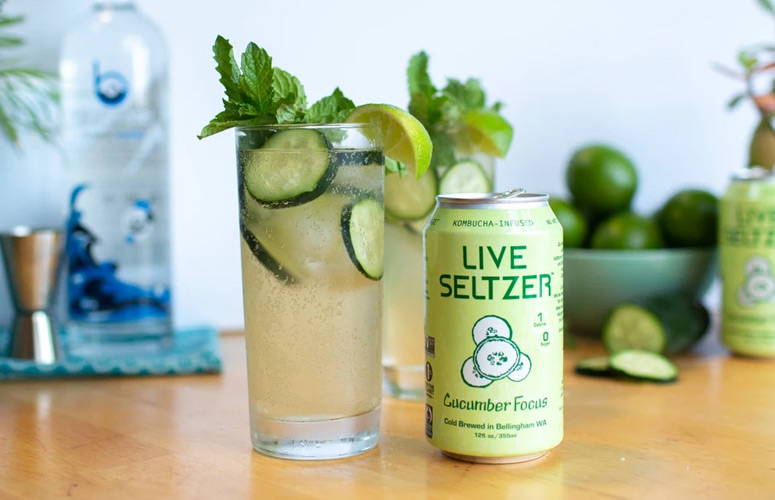 The best cocktails are complicated, right? Well, we've got to say this 3-ingredient Cucumber Vodka Gimlet is convincing us otherwise!
At Kombucha Town, all we've been drinking at the office lately is our new line of Live Seltzers. So, of course, when we head home for the day we take it up a notch with the classic booch + booze combo.
One of the best cocktails to come out of our home experimenting is this super-simple Cucumber Vodka Gimlet. Why vodka, you ask? It's well-known that good vodka is sort of the blank canvas of mixology, and we've obtained the best vodka there is from Everett, WA-based Bluewater Organic Distilling.
Bluewater was kind enough to send us over a bottle of their top-selling organic vodka to try out with our kombucha, and we are literally NEVER going back. This stuff is 100% distilled in hand-hammered, direct-fired copper kettles, giving it an extraordinary smoothness and crisp natural finish. Like all their spirits, their vodka is sustainably sourced and crafted in small-batches — it truly can't get any better than that!
Plus, this outstanding organic vodka really lets our Cucumber Live Seltzer shine.
For KT newcomers, our Live Seltzer is a proprietary blend of our organic and non-GMO raw kombucha cultures, fresh-pressed hero ingredients, deliciously crisp pure water from the North Cascade Mountains, and bubbles!
This refreshing seltzer water comes with zero sugar, one to two calories per serving, and the fantastic benefits of kombucha. We love it because, unlike the all too real effects of too much kombucha, we can drink seltzer all day long!
This Cucumber Vodka Gimlet is simple, refreshing and oh-so-good. And if you don't feel like going to the store, you can forgo the cucumber and mint (it's just garnish after all), grab a lime and order a case of seltzer right here on our website!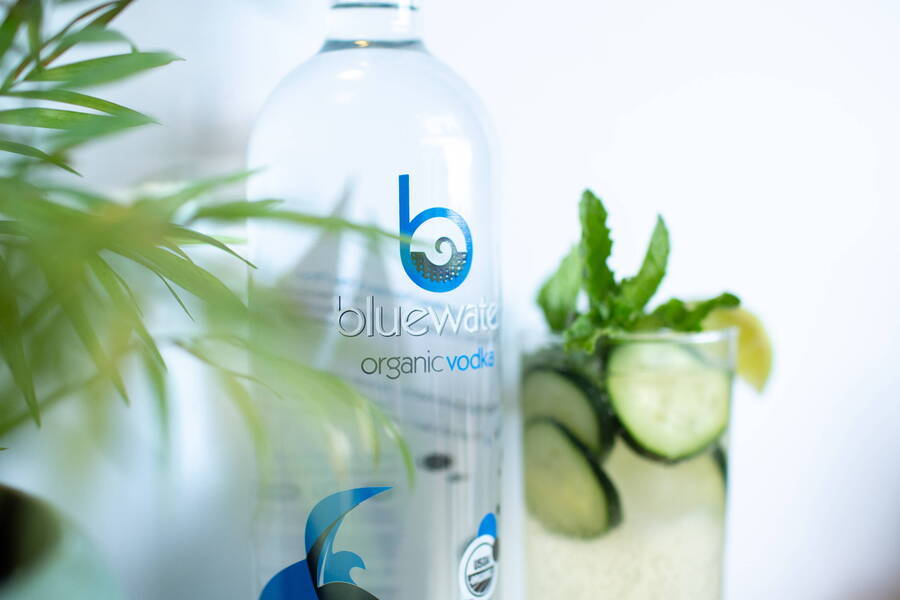 Ready to get started? Here's what you'll need:
— Kombucha Town Cucumber Focus Live Seltzer
— 2 oz Vodka (the better the vodka, the better the cocktail!)
— 1/2 lime, squeezed
— Fresh mint and cucumber (optional to garnish)
Instructions:
Pour chilled seltzer, lime juice and vodka into a glass filled with ice and cucumbers. Give it a little stir and garnish with mint.
Good luck! Check out Bluewater Distilling on Instagram @bluewaterdistilling and don't forget to tag @kombuchatown when you share the result on social media!
Best,
The Kombucha Town team